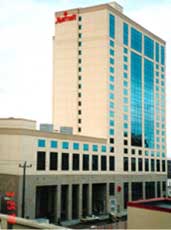 Hotels high–rise
The upper floor of Hotel buildings are similar to Residential. The lower floors are challenging, to get all the equipment and services into a small space. Often there is a desire to have high ceilings, which is fine if there is enough allowance for the interstitial ceiling space requirements. The Renaissance Suites, at Flatirons, in Broomfield, CO, USA, and the Marriott Hotel (shown at right), in Anchorage, AK, USA are two large Hotels. There are Architectural and Mechanical Systems slideshows for each.

Residential
We are working on both low–rise and high–rise projects. Our Low–rise projects that are show cased today include both multi–family and very large single family residential projects. There are very interesting projects in both categories.

Multi–family low–rise
The two–hundred–sixteen unit Mole Hill geothermal project in Vancouver, BC, Canada is heated (and could be cooled) with ground source heat pumps. The aquifer is very constant in the downtown area of Vancouver. Many other buildings could take advantage of reduced operating costs. An added benefit of a ground source heating system is that some cooling is available at no, or very little additional capital cost. In addition to those shown, we completed over one-thousand units of low rise housing in Sacramento, CA, USA during 2002, in seven different projects.

Multi–family high–rise
We designed the twenty-four story, 288 units, Cherry Creek Apartments near Denver, CO, USA using the efficient, space saver "Sovent" combination sanitary waste and vent plumbing system. A few of the CAD drawings are shown.

We completed the design for over 1,000 high-rise units in San Diego, CA during 2005. We are working on 1,000 more in CA during 2006. We are currently working on the Electra - Station B building, a 284 unit, 43 story high-rise, the Anka - Gaslight building, a 174 unit, 21 story high-rise in San Diego, CA, and the Santa Fe Depot buildng, a 36 story high-rise in San Diego, CA, all with Sovent piping systems. All California projects are designed to the California Title 24 Energy Code.

We just completed the design drawings for Madison, 98 unit, eight story residential-retail building in Seattle, WA, that just made it under the high-rise classification. We got aproval to use a Sovent system for this residential building in Seattle, WA. There have been no Sovent systems allowed or constructed in Seattle for over ten years. This building will be a leader and example for all of Washington State to follow.

10,000 to 30,000 ft2 Single Family
We have been privileged to complete services for some of the largest houses in Vancouver, BC, Canada. These houses are typically in the 10,000 to 30,000 ft2 range. It seems that our job is to bring the best of our commercial systems knowledge to make the house work as the Owners have expected. To see some beautiful houses, look at F1, L1, L2, K1, and/or K2.